Timber Frame
What is it?
Why use it?
Benefits
The Design
Creating the Plans French, German, Craftsman, Japanese, Sample Building Plan
Existing plans
Plan 1
Plan 2
Plan 3
Plan 4
Plan 5
"Men" at Work
Recent Projects
Services
Homes Additions Trusses, Roof Systems, Barns, Decks, Gates, Stairs, Hand Rails, Enclosures, Radiant Floor Heating, Finish Carpentry, Built in Furniture, Timber Detail Logs and beams
Links
Contact Us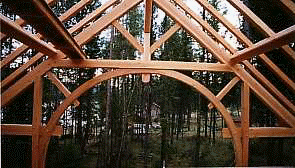 Frame

What is a timber frame? A Timber Frame is simply the construction of your home's basic frame, from timbers. We typically use the finest BC Douglas Fir for it's strength and durability. Douglas Fir, which turns deep reddish brown with age, is the strongest of the available softwoods. We also work with Spruce and Pine. While not as strong as Douglas Fir they are lighter in color, turning to a rich honey tone over time. For outdoor structures we suggest cedar, as it provides better natural rot resistance. There is also a growing popularity to use recycled timbers, but this option is currently more expensive.
Why use Timber Frame?
Aesthetics and quality

Timeless design

Energy efficient

Strong sturdy design built to last
many generations

A sound investment

Timber frame structures are one of the oldest styles of building construction.
Common to everyone that has entered a timber
frame home is an overwhelming desire to wake up surrounded by the stunning beauty of the exposed timbers, the warmth and security feeling of strength, security, and durability of the wood.
Benefits:
Custom Design - the sky's the limit!

Energy Efficient - combined with in floor heating and the efficiency of timber framing, customers can expect to see a 50% reduction in their heating bill.

Esthetics - a timber frame home blends into it's surroundings..

Easy Maintenance

Long Term Value